A little background on the Award Winning Street of Dreams 2009
Show houses can have their share of challenges but the end results are always awesome as you're pooling together a group of talent.  When we worked on this project it was a group effort with three talented designers: Angela Todd as project manager, Julie Hranicka, and me!  Additionally, and integral to the success,  was a crew of talented and kind suppliers all working together to make it happen (Kelly/Brandi/Jamie/Jon/Keith).  We named the unit "Luster of the Pearl", based on the design goals and the location – The Pearl District, in Downtown Portland, Oregon. The three designers, Angela, Julie and I had fun working as team to come up a "story" – a family personality – for the unit and build a color story for continuity throughout.  We then each selected areas to focus our efforts on.  I was immediately drawn to the master bedroom.
The Master Bedroom
Although it was in a downtown high-rise, it reminded me of my grandmother's vacation home in Palm Desert, Ca.  Her desert home had the same simple lines, expansive ceilings, and sprawling views and windows.  I picked this room as my focus.  Just being in the room for a few minutes and my fingers were flying on the paper!!  (and of course…it being me…it started with a chandelier!)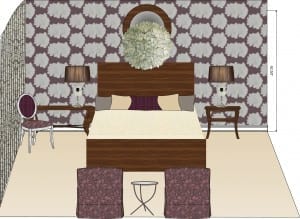 My initial renderings were a little rough, but for fun, I've included them in the pictorial.  The first one is the original concept based on a fantastic lotus flower fixture made of Capiz Shell.  We were unable to actually lay our hands on it unfortunately, but the design concept survived in it's next and final form.
Windows!
Additionally, since window coverings are a passion for me,  I volunteered to coordinated these treatments for the entire unit, including the soft treatments that gave the unit a homeyness not often associated with a loft.  It gave me the opportunity to work with a colleague (and former room mom)  Susan with Moonrise  Windows.  Window coverings offer not only privacy, but also help with temperature and sound quality in the space.  Here in this Pearl District loft was no exception.
Going Custom.
I am a big believer in custom furniture, every bit as much as custom drapery.  Being the "designer in charge" of a local custom furniture manufacturer came in handy with this great bench – we designed it to be sized comfortably for enjoying the view OR pulling up to the dining table.
Additionally, in the office/yoga studio, we thought it would be great to have a multi-functional desk.  I connected with the fabulous furniture maker, Kai Fuhrmann, gave him a fairly brief concept and let him do his thing.  The biggest request, was that the desk be on wheels…movable for our 'client' to push up to the wall during a work out!  He happened to have these great, vintage wood wheels and  came up with an awesome open concept design desk with reclaimed wood and his vintage wheels.
Cleaning Up.
My last focus were the closets and laundry room.  Since I'm a bit of clothes horse…another good fit!  Besides….working on the closets allowed me work with the remarkable staff at Portland Closets and hang out in their fab showroom!  My favorite find, however??  Crazy enough, it was the Pearl and gold (luster?) colored washer and dryer for the laundry room.  It really is the little things that make us happy!
Have fun touring the pictures.  After many long day, nights and even a few (several?) weekends, the project was completed in time for opening night for the 2009 Street of Dreams.  It was an awesome experience that I would do again in a heartbeat!  The fact that the beautiful master bedroom won for People's choice was just gravy!